Jurassic World: Dominion Dominates Fandom Wikis - The Loop
Play Sound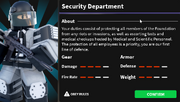 The Security Department is one of the two free combative teams, the other one being the Mobile Task Force. The Security Department is commonly abbreviated as "SD."
The Overseer for this team in game is O5-11.
In-game Description
About:
Your duties consist of protecting all members of the Foundation from any riots or invasions, as well as escorting tests and medical checkups hosted by Medical and Scientific Personnel. The protection of all employees is a priority, you are our first line of defense.
Gear:
Damage: 3/4
Fire Rate: 2/4
Armor:
Defense: 3/4
Weight: 2/4
Ranks
Rank
XP
Equipment
Morph changes
Recruit
0
[+] P90

[+] Glock

[+]Security Baton

[+] Bag

[+] Arrest

[+] Taser (Locker)

-
Guard
20
Above
[+] Added Belt pack

[+] Added Radio

[+] Added Holsters

Corporal
120
Above
[+] Added Cosmetic Grenades to Belt Pack

[+] Added Shoulder Guard

[+] Added Back pouch

Sergeant
250
Above
[+] Added Knee Pads
Sergeant Major
400
Above
[+] Added Left Shoulder Guard
Lieutenant
675
[+] Riot Shield
[+] Added Green Beret in place of Riot Helmet
Captain
1,000
Above
[-] Removed Left Shoulder Guard
Major
1,250
Above
[+] Green Beret changed into Blue Beret

[-] Removed Knee Pads

[-] Removed Balaclava

Assistant Director
1,500
Above
[+] Blue Beret changed into Red Beret

[-] Removed Right Shoulder Guard

Director
1,850
Above
[+] Red Beret changed into Yellow Beret


Quests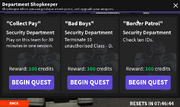 Quests can be obtained from the NPC located in Security Department spawn. The quests are as follows:
"Collect Pay"
Play on this team for 30 minutes in one session.
Reward: 100 credits
"Bad Boys"
Terminate 10 unauthorized Class-D.
Reward: 100 credits
"Border Patrol"
Check 10 IDs.
Reward: 100 credits
"Department Hero"
Defeat 10 Chaos Insurgency Units.
Reward: 100 credits
Trivia
Gallery