Jurassic World: Dominion Dominates Fandom Wikis - The Loop
Play Sound
"BE CAREFUL NOT TO GET CAUGHT"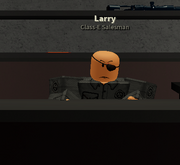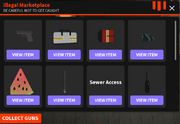 Larry is a Class-E salesman located to the left of the entrance of the CDCZ. Inside you will find the NPC "Larry". Larry sells items ranging from Disguise Kits, C4, and even a Medibag. Items from Larry can only be bought by Class-D and are only Rent-able.

If you own the Hostile CD Pack, you can claim your items here. Note: It has a 5-minute cool down.
NAME
COST
DESCRIPTION
EFFECTS
Mop
25
N/A
Cleans the floor in the CDCZ which earns

5$ per spot cleaned.

Sewer Access
75
N/A
Allows the player to escape into the Sewers.
Watermelon
125
N/A
Can Eat.
Medical Kit
200
N/A
Heals Nearby Players.
Disguise Kit
250
N/A
Disguises your Avatar as a random Avatar

on noncombative teams.

Riot Shield
300
N/A
Blocks Bullets, Can Push.
Signal Jammer
500
N/A
Allows to Warehouse to be robbed without

setting the alarms off for 30 (?) seconds.

Elite Diguise Kit
700
N/A
Disguises your Avatar as a random Avatar

on MTF or SD.

C4 Explosive
750
N/A
Used to explore the Vault when doing

The Heist robbery

Stolen Glock
1150
The Glock is a light and fast weapon with a 3.5 second reload time and a customizable 12 bullet magazine. This semi automatic is great for finishing jobs and protecting yourself.
See Items